Our Fermented White Pepper comes from a family farm on the island of Bangka, Sumatra, Indonesia. It's grown by a farmer named Pak Sugiri and his son, Ilham. It is picked fresh and then fermented according to traditional methods, using the fruit of the fresh peppercorn.
Highly prized in Indonesia but rarely found in the US, Fermented White Peppercorns add a deep umami flavor and funk to everything they touch. Grind over steak to mimic the flavor of dry aging, over veggies for heat and depth, or in traditional Cantonese and southeast Asian dishes that call for white pepper.
What they're saying
"When I opened a bottle of his fermented white peppercorns, the aroma came out like a wallop." -Mari Uyehar
COOKING
Substitute for black peppercorns where you want a funky kick
Grind over seafood dishes (especially good in crab cakes)
Add to blended vegetable soups, like potato or cauliflower soups
SOURCING
Bangka Island in Indonesia is famous for the particular fermentation process that farmers use to process their peppercorns, picking fresh pepper and soaking it in open-air fermentation pools for two weeks, using the natural sugar in the peppercorn fruit to create a white pepper that's savory, cheesy and unlike any other we've tasted.
Since we're huge fans of anything funky and fermented, and of spices with very specific methods of processing, we had to go to Bangka to find a farmer to work with. Ethan had planned a trip in the summer of 2017, around the time of the pepper harvest. While he was preparing for the trip, two days before he was scheduled to arrive in Bangka, he got an email, totally out of the blue:
"Dear Ethan Frisch,
I introduce myself my name is Sugiri, I am from Bangka Island have white pepper garden as shown attached.
I see email on your web that you sell many kind of spices.
I would like to offer the corporation to sell pepper to your company, we can start with little volume first then if it is success, we can cooperate for long time.
Let me know if you are looking for organic or conventional pepper.
Finally, this is the offer from me and I will wait good news from you. Thank you very much, have a great day.
Best Regards,
Sugiri"
Ethan responded that he'd be right over.
It turned out that Sugiri had grown up on the farm but left to pursue a 20-year career in IT in Bandung, one of Indonesia's bigger cities. As his parents got older, he and his son Ilham decided to move back home to take over the farm.
Ethan visited a dozen farms around the island but was struck both by the quality of Sugiri and Ilham's peppercorns and their entrepreneurialism and hustle. Unfortunately, they weren't quite ready to export at the time, but two years later, we brought in the first small shipment of their fermented white peppercorns. We've been working together ever since.
Customer Reviews
Write a Review
Ask a Question
Filter Reviews:
pepper
flavor
dishes
spices
Barrel
Burlap
everything
cooking
addition
gifts
08/31/2021
Marika G.

United States
Turned out to be quite versatile!
I continue to love this Fermented White Pepper - the more I use it, the wider its use becomes in my cooking. Besides sprinkling onto bread dough before baking, I now add some of it into hummus together with cumin - many other spices I try it with, surprisingly marry well together - truly a wonder spice! Maybe in my next culinary adventure I add it to hot cider?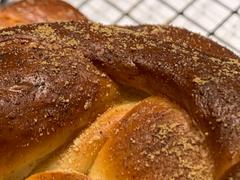 12/11/2020
N B.

United States
Floral White Pepper
This is a great alternative to black or blended peppercorns. Provides a gentle pepper flavor that's more floral without overpowering other flavors. I love to use it over my salads and eggs.
08/21/2022
Brian S.

United States
Can a spice be fun?!
This is one of the most interesting products I've ever tasted. I love it and put it on anything I can think of. Eggs, smoked meats, soups, you name it-this spice is getting added.
08/02/2022
Aaron O.

United States
Great pepper!
Just the right level of funkiness. I love it in salsas!