We first met Anjali Bhargava several years ago at an event for startup food company founders in 2017 and got to try her beautiful turmeric-based drinks. Anjali's been tinkering with her family's chai masala recipe since she was old enough to stand over the stove. We collaborated on a version that combines the Hawaiian turmeric that Anjali sources for her drinks with our spices, including a good helping of saffron, and the result was magical.
We introduced the first batch of Anjali's Chai Masala almost exactly one year ago, and it sold out SO quickly. It got dozens of great reviews and quite a few of you asked us to bring it back ASAP... so we did! Here it is in a brand-new, bigger tin that's good for up to 100 cups of chai.
Fragrant cloud forest cardamom, Herati saffron, Pemba cloves, buffalo ginger, cinnamon verum and Anjali's rich Hawaiian turmeric all come together to make an exceptional blend that can be added to a hot cup of black tea, sprinkled into a smoothie or folded into any of your favorite doughs and batters.
For a perfect cup of masala chai, add 1/4 teaspoon of this blend to 1 cup of boiling water, plus your favorite black tea and a splash of dairy or plant milk. Let steep for 3-5 minutes, and sweeten to taste. 
Tasting Notes: Aromatic • Rich • Layered
Ingredients: Ginger, cardamom, Resilience Hawaiian turmeric, cinnamon verum, cloves, fennel, black peppercorns, saffron
ABOUT ANJALI'S CUP
Anjali's Cup's mission is to empower you to make every day better with healthy and delicious products that are easy to enjoy. Careful sourcing, minimal processing and the alchemy of well-balanced ingredients are integral to everything they do.
Visit Anjali's Cup to learn more and order their other exceptional turmeric-based products.
Anjali's Cup founder Anjali Bhargava has this story about her connection to chai and the inspiration for her blend:
Chai has been a personal obsession of mine and was an essential part of my daily life long before turmeric. In high school, one of my first daydreams of entrepreneurship was about sharing my masala chai with the world. My recipe has evolved over the 20+ years since, and while I love to make it for friends and family, it is truly a dream come true to be able to share it with you!
Let's take it back to the beginning... Growing up, I watched my parents punctuate their lives with many cups of chai. My mom used to get me to drink milk as a kid by mixing in a spoon or two of her chai into my cup. Slowly that ratio shifted and I became a proper chai drinker by the time I was a teenager.
On a trip to my father's hometown of Jaipur when I was 16, I was so taken by Madhu Chachi's chai that I asked her (my aunt) to teach me. In her kitchen, she showed me how to boil the water, milk, fresh ginger and spices together. She sent me home to Connecticut with her favorite Assam tea and some beautiful clay chai cups that I still treasure.
For many years I had a hard time getting my chai right when making only 1 or 2 cups and often traded the lengthy process for a simpler bag tea when just making a cup for myself. All the while I was on the prowl for a way to make the big pots easier and faster and my single cup yummier.
I tried so many so-called masala chais, expecting a moment of bliss when I take that first sip, only to be disappointed. And while there are thousands, maybe millions of great versions of masala chai in households and roadside stands around the globe, I've had a growing impatience with the sense that more and more people in America are being introduced to chai that was just wrong. If you know me in real life, you know this angst has been real.
And when it came to premixed tea blends I often felt like the spices were not in the right balance with the tea. Some of us like our tea strong, some like it milder, or decaffeinated or even dirty! So I wanted to make a spice blend that you and I could both use as much or as little of as we liked to enhance our drinks - to take that tea and allow it to transport you somewhere sweeter, if only for a few moments.
I hope this Chai Masala (with Saffron and Turmeric) will transport you to a blissful place with each sip.
---
---
Customer Reviews
Write a Review
Ask a Question
Filter Reviews:
chai
milk
black tea
chai masala
spices
flavor
sugar
Anjali
oatmeal
Turmeric
05/03/2021
Andrea L.

United States
03/05/2021
Vivian S.

United States
I LOVE IT
I used earl grey and a splash of half and half to make my cup of masala chai and it's so tasty and fragrant that I don't even want to add any sweetener to it. I was a little hesitant before purchasing this because tea usually taste better with fresh ingredients (such as ginger) but this hits the spot with a simple stir of the spoon! Be aware though that a few flecks of spices float up in the cup of chai from being more coarse than the others. I actually like that though since it adds character and does not bother me at all. I look forward to experimenting with various black teas, creams, and sugar. This truly is warmth and happiness in a cup.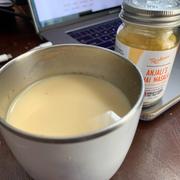 12/22/2020
Hillary R.

United States
A comforting cup of chai
In anticipation if this latest spice blend,I made sure to have black tea on hand. I followed the brewing suggestions posted on the blend page. It's delicious and oh so smooth unlike some other chai blends I have had. Def. will experiment with diff milks, sweeteners and concentration. I think this blend would be excellent added to muffins/cakes/cookies as well. Nice new addition to the blend line.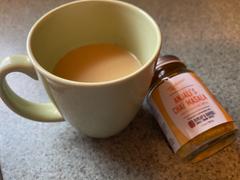 11/07/2022
Anonymous

United States
Excellent Chai Masala
Very exciting to find a Masala similar to those I drank in India. Thank you for your product.
10/07/2022
Rebecca

United States
Chai with a unique flavor and good balance
Don't know how she did it, but Anjali hit just the right flavors with the turmeric and other spices. I first added it to a hot plant milk where it was the only seasoning, no sweetener added, and it wasn't too spicy or too bland, just right. And have had it with Assam tea and milk and some sweetener. Still getting to know this one, but it's a keeper! I really love a good chai, and will enjoy using Anjali's over the winter.