"So easy to use!" -The TODAY Show
The Finamill grinder is loaded with features:
✔ Adjustable, durable and non-toxic ceramic burr grinding mechanism
✔ 2 easy-to-refill, washable grinding pods
✔ LED light on the base to see how much you're grinding
✔ Balanced ergonomic design with one-finger grinding
✔ A'Design Award–winning, patented design
The grinder comes in a beautiful limited-edition Burlap & Barrel burgundy color and includes 3 x AA batteries, and it ships for free within the US.
See the FinaMill in action in this short video!
The FinaMill 3-spice set includes:
Robusta Black Peppercorns (2.2 oz glass jar)
Grains of Paradise (1.0 oz glass jar)
Green Garlic Scapes (2.1 oz glass jar)
Batteries included. No returns accepted but store credit may be offered in cases of defective mills. 
Cooking tips
The FinaMill is perfect for uniformly shaped spices like peppercorns and seeds (coriander, cumin and fennel) as well as herbs like thyme, oregano, and garlic scapes. We especially recommend the Finamill for:
Peppercorns (all kinds!)
Cloud Forest Cardamom Seeds
Chili flakes (all kinds!)
Wild Mountain Cumin
Grains of Paradise
Euphrates Mint
Oregano Flower Buds
Wild Ramps
Flowering Hyssop Thyme
Red River Coriander Seeds
Lucknow Fennel Seeds
Things really get exciting when you make your own blend. Here are a few ideas to get you started:
Make your own peppercorn blend
Combine equal parts of herbs for seasoning fish, adding an herbaceous element to dips, or topping roasted vegetables
Create your own house blend that goes on everything! (Hint: we like Jimmy Nardello Sweet peppers, wild ramps, and Lucknow fennel seeds )
SOURCING
One of the most common questions we get is, "What's your favorite spice grinder?
Sure, there's a special place for our mortar and pestles and pepper mills, but we always wanted a spice grinder versatile enough to handle almost anything we threw at it.
Enter Alex, Dave, and Nancy from FinaMill. Alex had a whole career working in spice grinding technology when he invented the most versatile spice grinder in the world.
We spent over a year testing out FinaMill's patented interchangeable spice pod system and we fell in love.
To use the Finamill, load the pod with the spice of your choice, click it into the handle and grind directly over your food like you would with a traditional pepper mill.
For more information and to buy accessories, visit finamill.com
Ready to get grinding? Check out the Quick Set-Up Guide
Want to keep your FinaMill in tip-top condition? Find Care & Maintenance Information here.
Customer Reviews
Write a Review
Ask a Question
Filter Reviews:
spices
grinder
pods
FinaMill
cooking
flavor
time
twist
best
Burlap & Barrel
01/17/2022
Sj B.

United States
Love FinaMills Stylish grinder versatile and pods
If you are here @B&B then you probably have all the spices you love. Fina Pods make having them all at your fingertips easy! Interchangeable pods pop in and out effortlessly one handed. LED on the bottom so you can see how its grinding. Stackable shelves to make storing easy. I have all my favourite spices in pods ready to pop in when cooking or at the table. Whats not to love? I have had mine for over a year and am very happy to see them here.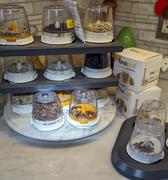 01/20/2023
Anonymous

United States
Spice Grinder
Absolutely excellent product.
01/18/2023
Anonymous

United States
Gutless Spice Grinder not worth the money.
I loved the idea of this grinder but because it is battery operated it lacks power and is very slow. Also, round spices, such as allspice, get caught and jam it. I had to smash my allspice before putting it in the grinder. It does grind the spices nice and fine, but I like my old coffee grinder better.
12/28/2022
Rob

United States
What a waste…
Sorry guys but this mill ****** from day 1 and now it has been sitting, dead on my counter for months. The whiny, grating motor always sounded like it was having issues no matter how many times I changed the batteries. After about 6 months of usage, a few times a week it finally gave up the ghost and doesn't even power up. I don't think this mill lives up to B&B name and reputation of quality.