Our ground Laurel Bay Leaf is a pure expression of the savory, herbal flavor of the bay leaf. Sourced from the rocky Mediterranean coastline of Turkey, dried and ground into a powder, it's a versatile alternative to whole bay leaves.

Use sparingly in soups, stews and as a rub for roasted meats and veggies.
COOKING
Scoop 1/4-1/2 teaspoon into your chili, soup or stew early in the recipe
Add depth with a sprinkling in your pickling jar
Customer Reviews
Write a Review
Ask a Question
Filter Reviews:
bay leaves
flavor
taste
soups
kitchen
beans
spices
aroma
smell
everything
05/21/2020
Judi S.

United States
Much more than expected
I haven't cooked with the bay leaves yet, but they smell wonderful. I was surprised at how many bay leaves I got for the price. It was a lot!! Now I need to with find some recipes that use Lots of bay leaves or make a wreath for the kitchen. All I usually use them for is spaghetti sauce. Got any good ideas?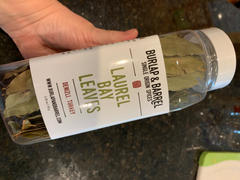 My food tastes better!
I'm really in love with all the herbs and spices I bought. This is such a better way to use bay leaves than the full leaf. Just loving nth depth of flavor and precision I can achieve with this powdered version. Highly recommend.
02/14/2022
Anonymous

United States
Laurel Bay Leaf
Used it in a chili recipe— added a nice subtle flavor, without having to remove a bay leaf.
01/25/2022
Cassandra L.

United States
Devoted customer!
In my first order, I picked the most common spices I use for home cooking. I was so excited to open the box and spice jars to see if I could really tell a difference. Every one of the jars amazed my senses and enticed me to start thinking about what to cook next. Each dish, as a home cook, has elevated flavor and filled the kitchen with the best aromatics. I never knew what I was missing. So happy to have found Burlap and Barrel and support spice farmers around the world.
01/20/2022
Theresa R.

United States
Wow!
Wow, I was skeptical about this, but I cook a lot of beans and soups and go through a lot of bay leaves. When I opened the jar I was blown away by the fragrance, and couldn't wait to use it. I must say it is absolutely as stated on B&B's site, and a little goes a long way.
01/05/2022
Shannon Y.

United States
Perfect for beans and soups
Good substitute for whole leaves, especially when cooking beans. Highly recommend.
12/20/2021
Ivy

United States
Rich smell and great leaf alternative
So happy to have bought this - there are some days that a bay powder is the right dash instead of a full leaf.
11/23/2021
Carol V.

United States
umami flavor in a jar
I was a bit hesitant at first to use this spice however, I'm sold now! I use the recommended amount to substitute for a bay leaf (printed on the jar). It adds a nice depth of flavor. My husband commented the first time I used it - he loved it!
FREQUENTLY BOUGHT TOGETHER