Our Caribbean Bay Leaves, which grow on on an estate in St. Patrick, Grenada, are sweeter, richer and warmer than our Turkish bay laurel leaves, which are more savory and herbal. The bay leaf powder is wonderful in both sweet and savory applications.
The leaves are hand-picked, dried and ground at origin at Belmont Estate on the island of Grenada. They are quite versatile, and they add depth and complexity to stews, curries and baked goods. You can sub the powder for standard bay leaves, cinnamon or nutmeg in any recipe. It's also very convenient for making marinades, rubs and blends (including classic jerk seasoning!).
COOKING
Add 1/8th tsp powder at the start of cooking a soup or stew
SOURCING
Shadel Nyack Compton runs Belmont Estate, a 17th-century working farm that serves as an agritourism destination an hour's drive from St. George, the capital of Grenada. The family farm grows many spices using organic practices, and they also run a bean-to-bar chocolate shop, goat dairy farm, petting zoo, café, craft market and restaurant that serves traditional Grenadian cuisine. Shadel's vision is to package local, homegrown spices to a wider market.
Our partnership with her has led to an increase in Belmont Estate's manufacturing, handling and processing techniques, as well as new opportunities for revenue streams in a Covid-impacted world. Shadel and her team have worked to plant more trees and develop the organic spice farm, and they have invested in training the harvesting team in regenerative farming, responsible harvesting and in ensuring the utmost care is taken in transporting, cleaning, drying and processing and storing of spices.
They believe the secret to a great product is their love and care for the land and investment in people's skills. In addition to these wonderful bay leaves, Belmont Estate grows cacao, nutmeg, mace, cinnamon, cloves, turmeric and ginger.
Learn more at www.Belmontestate.gd
Customer Reviews
Write a Review
Ask a Question
Filter Reviews:
bay leaves
husband
berries
meals
marinade
farmers
number
soups
some
taste
02/21/2022
Melissa G.

United States
Visited Belmont in Grenada - Amazing!
My husband and I recently had the opportunity to visit Shadel at Belmont Estate on a trip to Grenada. She showed us the bay leaves drying as well as the rest of her amazing property. Their operation is incredible. Everything is truly done with such care and yes, love. Everyone who worked there was passionate about what they did and proud of their products. This was truly the essence of what makes Burlap and Barrel so special - these relationships with the farmers who bring us quality, small-batch wonders.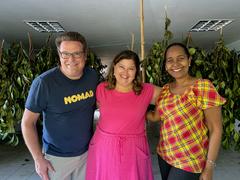 Not your ordinary bay leaves
I've used this in stews, soups and grilled meats. A little goes a long ways.
04/19/2022
Debby I.

United States
The quality of all these spices blows me away
I'm cooking our meals based on spices now, haha
04/10/2022
Debbi

United States
So Many Uses
When I opened the jar, the smell was wonderful. I have been using it when I roast veggies and it imparts a delightfully sublte taste. I can tell it that will be equally good in soups and as a marinade. I make a Blackberry Bramble jam every year that calls for a number of bay leaves and that takes away from the flavor of the berries, so this year, I'm going to use the Caribberan bay leaves and I should get just the taste that allows both the berries and milder bay to shine.
03/20/2022
Lucy H.

Ecuador
Sensational bay
Deep, rich, interesting. Put some in a spaghetti sauce, just a sprinkle. It added mystery. Husband says it is the best spaghetti sauce ever.
FREQUENTLY BOUGHT TOGETHER
Choosing a selection results in a full page refresh.
Press the space key then arrow keys to make a selection.