Our Black Urfa Chili comes from southeastern Turkey, where you'll find it on almost every table. It's a deeply savory, not-so-spicy chili that's delicious on kebabs and other grilled foods. Try it cooked into stews and chilis, in salad dressings, sprinkled on fluffy scrambled eggs, and even mixed into brownies and other chocolate desserts for a little extra depth and a hint of heat.
After being cured, the black Urfa chili is packed with salt and a little sunflower seed oil to preserve its natural texture and flavor and prevent it from drying out. 
It's been getting some attention. Here's what some folks have to say about it:
"Game-changing spice for home cooks who think they have everything." -Epicurious
"The one I obsessed over in 2018." -Bon Appetit
"They've got these beautiful cocoa- and raisin-like flavors, they're lightly smoky, and they bring a lot of cool things to beer... as well as to poached eggs." -Bryan Selders, Dogfish Head Craft Brewery
Origin

: Urfa, Turkey

Aliases: Urfa biber, isot
Heat level: 5,000-10,000 Scoville units
Process: 

Cured in the sun and stone-ground

Ingredients: Urfa Chili (Capsicum annuum), sunflower seed oil, salt (salt content is 1% by weight, or about 0.5 grams per jar)
Tasting notes

: Raisin • Espresso • Summer Night
Please note that the Black Urfa Chili contains a little sunflower oil and may appear to be slightly clumpy or wet as a result, especially at cold temperatures. The oil is part of what makes the chili so delicious, and there's nothing to be concerned about if it looks a little wet. 
COOKING
SOURCING
Black Urfa Chili starts out as a red, sweet, spicy pepper almost identical to the more famous Aleppo pepper. It's grown in the hills around the ancient Turkish city of Urfa, where the hot, dry days, cold nights and sandy soil are part of its unique terroir. After harvesting, it's cured in the sun, where it changes color from red to black and develops its characteristic flavor profile, reminiscent of chocolate and dried fruits, with a lingering burn. It goes through a final stone-grinding step, where it's ground into flakes between massive granite wheels with a little bit of sea salt and sunflower seed oil. The oil helps preserve its natural texture and flavor and prevents it from drying out (and is delicious, too!).
Meet the Farmer: Bekir Bey is a chili pepper farmer just outside the city of Urfa, and in this photo he was out picking peppers in the blazing 104-degree heat. He and his family cultivate about 12 acres of chili peppers, almost all of which will be cut up, fermented and ground into the famous Black Urfa Chili Flakes. They spend about 10 months of the year planning, planting, tending, watering and harvesting these very special chili peppers. The combination of pepper variety (same as an Aleppo/Silk Chili), sandy soil, hot dry climate and very particular fermentation method all come together to create a pepper unlike any other in the world.

Customer Reviews
Write a Review
Ask a Question
Filter Reviews:
flavor
chili
spices
heat
everything
eggs
dishes
depth
Burlap
quality
07/14/2021
Anonymous

United States
09/04/2020
Charlie

United States
08/21/2020
Christina P.

United States
Chili goes in almost everything
I've used this chili alongside a couple others for both savory dishes (Dutch pot chicken, sauces, pesto), and more recently, my sweet bread (chocolate and chili is the best). Unlike the store bought spices which is quite overwhelming and who knows how old, Burlap and Barrel has a perfect selection that allows the new cook (ie. Me) and seasoned ones (haha) alike to feel comfortable to add a number of spices without the worry that you might mess up your dish. From someone who never liked cooking before, I look forward to digging into my spices to see what I can make next!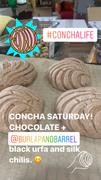 06/04/2020
Jasmine M.

United States
01/24/2022
Terese L.

United States
Useful and interesting
In the past I've relied on salt, freshly ground pepper, thyme, oregano, cracked red pepper, cinnamon, nutmeg and cloves for most of my spice needs. In addition I often use fresh parsley, cilantro and dill. The black Urfa chili has proven to be an interesting and useful addition to my regular lineup. It adds some bite without being overwhelming.
01/24/2022
Anonymous

United States
Black Urfa Magic
Amazing! I put the Black Urfa Chili in EVERYTHING! It is so tasty and adds depth to all of my dishes!
01/24/2022
Elisa E.

United States
Great Gift
These spices were a gift for my son who is learning and loving to cook. He loves them all and they were definitely a great gift. I will be reordering for him soon!
01/22/2022
Nini E.

United States
Tasty and different
I've been adding this to all sorts of things, stir fries, eggs, rice. I like putting some in olive oil and sopping it up with some fresh bread.
FREQUENTLY BOUGHT TOGETHER