Our Sun-Dried Tomato Powder is made from a special tomato variety grown across Turkey's Aegean Sea coastline. Sun-dried tomatoes are a natural source of umami, and this tomato powder adds a bump of rich savory tanginess.
Sauté the powder with aromatics like onions or garlic, use as a garnish on roasted vegetables or add to rubs for grilled meats.
"[I'll use] Burlap and Barrel's when I'm looking to add complexity and acidity. It's more of a special occasion sort of deal, reserved for garnishes and final flourishes." Sarah Jampel, Bon Appetit
Origin: Aegean Region, Turkey
Process: 

Sun-dried & ground

Ingredients: Sun-dried tomato, ground (Lycopersicon esculentum, Mill.)

Tasting notes:

Herb garden

 

•

Umami bomb
COOKING
Coat veggies in olive oil and toss, add to meat rubs and stews
Sauté with onions, garlic or mirepoix (cut onions, celery and carrots)
Sprinkle over sliced tomatoes (trust us), focaccias and pizzas
Pairs well with:

 

Wild Mountain Cumin

,

 

Smoked Pimentón Paprika

,

 

Cured Sumac
Some handy conversions:
- Tomato paste: 2:1 - 2 parts powder to 1 part water
- Tomato sauce: 1:6 - 1 part tomato powder to 6 parts water
SOURCING
These tomatoes are grown by a network of smallholder farmers in the Aegean region in Turkey. The tomatoes are picked from the field, washed, sliced in half, then laid out to dry in the sun on wide sheets, where they lose up to 95% of their weight.
Fun fact: These tomatoes aren't as sweet as the tomatoes that you'd typically pick up at the market. There's a good reason for that: the sweeter tomatoes produce a clumpy, sticky powder, while these have a tangy kick that's easy to sprinkle on any dish.
Customer Reviews
Write a Review
Ask a Question
Filter Reviews:
flavor
tomato powder
depth
spices
dishes
eggs
addition
soups
ways
umami
11/15/2021
sandi k.

United States
tomato tasting
love the spice love your company
11/14/2021
Meg M.

United States
Where Have You Been All Of My Life?
Tomato Powder is my new all-purpose seasoning. Eggs? Check. Sandwiches? Check. Soups, Stews, Chili, the list goes on and on. Almost anything savory is enhanced by tomato powder. I love this stuff!
11/03/2021
Julie H.

United States
this is for a gift
It looks like a really nice gift, which I plan to give for Winter Solstice.
11/03/2021
Gregory H.

United States
Tomatoe Powder, who would have thought?
One of our favorite spices from B&B. Adds rich flavor to so many dishes like spaghetti and soups. I doesn't slap you in the face it just pleases your palete.
11/02/2021
Anonymous

United States
1st time trying Tomato Powder - success!
What do tomato powder, Drumstick Lemongrass, Hyssop Thyme, Cured Sumac, & Grains of Paradise all have in common? These delightful Burlap&Barrel spices are mixed into the winter squash I made for lunch today (I am munching as I compose this review)! Today was the first time using the tomato powder. I am totally enjoying each spice purchase! If I could have posted a pic, I would have :-) ...signed, The Spiciest Woman in the Neighborhood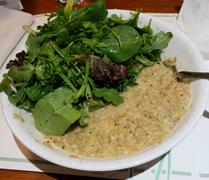 FREQUENTLY BOUGHT TOGETHER