Get to know the incredible spice blends that we developed in collaboration with Floyd Cardoz, a celebrated Indian-born American chef, and his family. Chef Floyd was beloved for the warmth and spice he infused into ingredients and the genuine care and compassion he bestowed on his staff and guests alike. In his 30-year career, he led restaurants in the United States and India, penned two cookbooks, won a national television cooking competition, and contributed his time and talent to countless charitable organizations. He passed away in March 2020.

The FC + B & B collaboration masalas were conceived in 2019 by Chef Floyd Cardoz. We're proud to release them with his wife and business partner, Barkha, as a memorial to his love for the cuisines of India and his passion for sharing them with the world. 
In 2020, we launched the first three masalas: Goan Masala, which captured the flavors of his family's homeland; Kashmiri Masala, from his travels as a young cook; and Garam Masala, the cornerstone of his spice cupboard. In 2021, we continued that legacy with three more masalas: Green Tikka Masala, an adaptation of an iconic dish from his restaurant Tabla; Vindaloo Masala, Floyd's mother's recipe for the classic Goan stew; and Chaat Masala, an "everything" seasoning that he loved to sprinkle on...pretty much everything.
Green Tikka Masala
"Chicken tikka was one of the most popular dishes at Floyd's famous restaurant, Tabla, and it evokes strong emotions to this day. Floyd created it to give his guests a new chicken tikka that was different from the typical red tandoori style, using curry leaves, ginger, garlic, and a little chili. Use this masala as a rub or base in curries with coconut milk or yogurt. Finish with a little soy sauce, a squeeze of lime, and chopped onions." -Barkha Cardoz
Size: 1.8 oz glass jar
Ingredients:

Garlic, black pepper, cumin, curry leaves, ginger, Cobanero chili



Tasting notes: Herbal • Nutty • Savory
Cooking: Paneer Green Tikka
Cooking Instructions: For the best flavor, bloom the masala in oil, butter or ghee at the beginning of the cooking process alongside other aromatics (onions, garlic, tomatos, etc.)
Vindaloo Masala
"Vindaloo is a Goan style of marinated cooking using chilis, garlic, and vinegar. Floyd's mum Beryl makes amazing vindaloo, and she shared her recipes with her kids. Floyd often made pork vindaloo for our family whenever he craved his mum's food, and I hope this masala transports you to our kitchen. Marinate your main ingredient with this masala, crushed garlic, vinegar, and salt for a few hours, then simmer until fully cooked." -Barkha Cardoz
Ingredients:

Garlic, black pepper, Kashmiri chili, turmeric, cumin, sweet paprika, smoked paprika, cloves, cinnamon verum



Tasting notes: Spicy • Smoky • Powerful
Cooking: Vegetable Vindaloo, Vindaloo Bean Soup
Chaat Masala
"This is one of our family favorites; it's tangy, salty, savory, herbal, and just a little hot. This was one of Floyd's favorite masalas as well, and he loved to finish chaats and grilled dishes with a generous sprinkle of the masala and a squeeze of lime. It's a perfect finish to fresh fruit, crunchy veggies, grain-based salads and chaats, and anything else that needs an extra sizzle of flavor." -Barkha Cardoz
Size: 1.8 oz glass jar
Ingredients:

Black pepper, Kashmiri chili, cumin, ginger, coriander, fennel, ajwain, mint, black salt, amchur, tamarind, hing



Tasting notes: Tart • Funky • Complex
Cooking: Chickpea and Apple Chaat
Goan Masala
"Every Goan family has a blend of spices they use for everyday cooking -- this was Floyd's. When our sons were young, we decided to leave out fresh chili peppers to cook milder curries of shrimp, chicken, and vegetables. Adding coconut milk makes this earthy curry creamy and full-bodied." -Barkha Cardoz
Size: 1.8 oz glass jar
Ingredients: Turmeric, black pepper, cumin, cinnamon verum, ginger, cloves

Tasting notes:

 Earthy • Pungent • Gingery
Kashmiri Masala
"When Floyd was 18, he traveled to India's northernmost state of Kashmir. He had never tasted their mix of Kashmiri chili, ginger, and fennel before, but the combination quickly became one of his favorites. This aromatic masala gives beans, vegetables, lamb, chicken, and stewed potatoes new life. Cook with yogurt to meld the flavors together." -Barkha Cardoz
Size: 1.8 oz glass jar
Ingredients:

Kashmiri chili, coriander, ginger, fennel, cinnamon verum, turmeric, cinnamon leaf, black cardamom, yellow cardamom, mace, cloves



Tasting notes:

 Fennel • Ginger • Aromatic

Aliases: Rogan Josh Masala
Garam Masala
"Every chef has a top-secret recipe of spices they combine for their garam masala. This deceptively simple yet bright and aromatic blend was Floyd's. Just before serving lentils, beans, vegetables, or meat, bloom garam masala with aromatics in ghee or sprinkle directly into the cooking pot to finish with fragrant, floral notes." -Barkha Cardoz
Size: 1.8 oz glass jar
Ingredients:

 Cinnamon verum, star anise, bay leaf, black cardamom, yellow cardamom, mace, cloves



Tasting notes:

 Floral • Sweet • Aromatic
Want more? Check out the Cardoz Kitchen Collection, which includes all six masalas, as well as six other spices that reflect the flavors of Barkha's family's kitchen and the ingredients that inspire her every day.

Looking for more recipes? Find them at floydcardoz.com.
Customer Reviews
Write a Review
Ask a Question
Filter Reviews:
spices
masalas
flavor
dishes
quality
recipes
Goan
Indian
Floyd
gift
02/19/2022
MARGARET S.

United States
01/17/2022
Dena P.

Canada
Quick and delicious
I've bought a few of the B&B masalas and have found them to be so flavourful and fresh tasting but last week I made a really quick and delicious Goan masala shrimp dish with green beans that was so good and ready from start to finish in about15 mins. I placed a coconut oil in a wok, threw in a chopped up med onion and 3 large cloves of garlic until sautéed, Goan masala and then a can of coconut milk. Then I threw in a handful of French green beans. Cooked for about 5 mins. I prepared frozen shrimp by pulling off the tails rubbing with curryand more Goan masala and added them to the wok and cooked for another 3 minutes and served over basmati rice. Yum. All the flavour from the Goan masala really shone through!!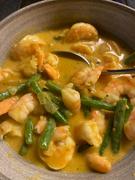 01/15/2021
Devangi R.

United States
Such fresh spice mixes
I tried the kashmiri masala and garam masala, I am yet to try Goan masala. But OMG, these spice mixes are incredibly fresh and flavorful! They smell amazing as soon as you open the bottles! I couldn't wait to try them. I already used garam masala in many dishes but dal dry, I made Dum Alu and Rajma using kashmiri blend. I forgot how spices are supposed to smell until now. A little goes long way as they are fresh and retains flavors! I regret not buying these earlier. can't wait to make something using Goan spice blend! Thank you!
01/03/2021
Judith B.

United States
11/10/2020
Sarah O.

United States
11/06/2020
Joel B.

United States
Three masala making wonderful food
I have used all three masalas. I have made Chana dal as well as Aloo Gobi and then I made a white bean dal. As well as two rice dishes. They all turned out wonderful. One thing I've enjoyed is the idea more is better. Because in most American cooking spice is somewhat limited Indian inspired dishes like being indulged don't be afraid to drop more in especially at finish. I've gained a lot of confidence using Mr Cardoz's blends in my Indian food prep. Thank you Floyd and Barkha for being more joy to my cooking. Namaste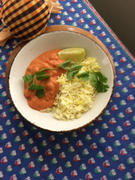 The Spiced Life
I absolutely loved the Floyd Cardoz spice set. I was a regular customer at Tabla, where Floyd Cardoz was the chef. His cooking courses, books and delicious meals taught me the importance of using spice and spice blends in preparing delicious meals. Burlap and Barrel has bottled perfect spices to honor him. They are so fresh, so delicious and make everything that I cook with them sing. Based on my experience with these spices, I am gradually converting all of the spices in my spice cabinet to Burlap and Barrel. They are so fresh and flavorful there is no comparison to other spices.
FREQUENTLY BOUGHT TOGETHER