Bright, savory laurel bay leaves from Denizli, Turkey, with an herbal, green tea undertone. Perfect for soups, stews, pasta sauces, and pickles. The key to getting the most out of bay leaves is to use them in dishes where they can cook for enough time to extra the flavor. Once the dish is ready, remove the bay leaves before serving.
Origin: Denizli, Turkey
Process: Sun-dried
Ingredients: 100% laurel bay leaves (Laurus nobilis)
Tasting notes: Savory • Vegetal • Green Tea
COOKING
Drop a few leaves into your chili, soup or stew early in the recipe
Add depth jar with 1-2 leaves in each your pickling jar
Add a handful to whatever you're slow cooking next
Pairs well with: Nile Coriander, Desert Fennel, Zanzibar Peppercorns
Customer Reviews
Write a Review
Ask a Question
Filter Reviews:
kitchen
everything
spaghetti sauce
bay leaves
recipes
price
Lots
ideas
wreath
05/21/2020
Judi S.
United States
Much more than expected
I haven't cooked with the bay leaves yet, but they smell wonderful. I was surprised at how many bay leaves I got for the price. It was a lot!! Now I need to with find some recipes that use Lots of bay leaves or make a wreath for the kitchen. All I usually use them for is spaghetti sauce. Got any good ideas?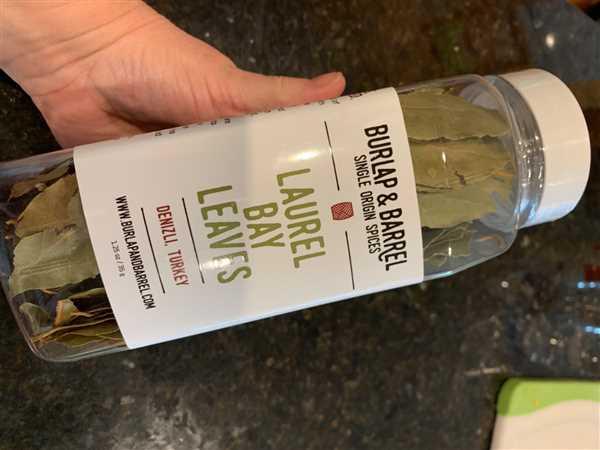 05/20/2020
Anonymous
United States
Great product
Everything I've gotten from B&B has been stellar.
I am completely addicted to Burlap and Barrel spices. So full of aroma and flavor!
The Bay was so fresh and imparted so much flavor I could use less and still got great Bay flavor. Thanks
Excellent quality. Great value I really like the idea of sourcing directly from the farmers.