Our richly fragrant Cardamom Extract is a beautiful take on the traditional extract, made with our cardamom seeds from Alta Verapaz, Guatemala. A beautiful golden color, this extract can be swapped 1:1 for vanilla extract.
It's excellent in baked goods, drinks, puddings, coffee and anywhere else you want a splash of tropical cardamom flavor. Add a botanical burst to your favorite martini, or make a refreshing, citrusy cocktail, with or without alcohol.

This extract is a slow-crafted custom blend made in collaboration with Bittercube. They expertly infuse our cardamom seeds in alcohol to make a deeply flavorful, versatile extract. Use it anywhere you'd use vanilla extract, in an equal amount.

Cooking tips
Sub 1:1 for vanilla extract in baked goods, puddings and ice cream
Use a few drops in a gin or vodka cocktail
Liven up a glass of sparkling water or a cup of coffee
Pale greenish, sharp and bitter but fragrant, it can add a spicy, aromatic note to tea or coffee, cocktails and custards.
SOURCING
Bittercube creates slow-crafted, handmade products in Milwaukee, Wisconsin, with real botanicals. Their mission is to make innovative, densely flavored bitters through thoughtful sourcing, meticulous production, and ongoing research, and to inspire elevated drinking experiences.
Bittercube was founded in 2009 by two bartenders with a shared vision for bold & balanced bitters. Over the years, they have been featured in The New York Times, Martha Stewart's Everyday Food, Imbibe Magazine, Timeout, Bon Appétit, Chicago Tribune and NPR, among many other publications.
HEALTH BENEFITS
Known to be one of the world's oldest and most expensive spices, cardamom is part of the Zingiberaceae family. Black cardamom (Amomum subulatum) is a herbaceous perennial that grows in mountainous forests, is much larger than green cardamom and has tasting notes of smoke, camphor, citrus and menthol. It is typically dried and smoked, then used in savory, slow-cooked dishes. Green cardamom (Elettaria cardamomum) is a tropical flowering herbaceous perennial with tasting notes of fruit, herbs and mint. It is versatile and is used in both sweet and savory dishes.
Cardamom has been used culinarily, medicinally and cosmetically for thousands of years. In Ayurvedic medicine, it is considered to be tridoshic. Essential oil percentages of cardamom range and are largely concentrated within the seeds. There are many active beneficial components found in black and green cardamom, including but not limited to cineole, terpinyl and linalool.
While we do not make any health claims on any of our spices, there has been some historic and recent evidence that cardamom can potentially be helpful for:
Further clinical studies are warranted and in progress. Please always consult your healthcare provider. This is not intended as medical advice.
Customer Reviews
Write a Review
Ask a Question
Filter Reviews:
Spice Club
extract
coffee
cardamom
Cloud Forest Cardamom
drops
replacement
vanilla extract
cookies
splash
01/12/2023
Deb W.

United States
Amazing!
I received the cardamom extract in the Spice Club. I was a little unsure how to use it but then decided to try it in biscotti. I used my almond biscotti recipe and substituted the Cardamon Extract for the almond flavoring. I was amazed! These cookies were my favorite of all our holiday baking! Everyone was asking what was in the biscotti, as they had a unique taste and were so good! I will definitely make them again and try this extract in other recipes!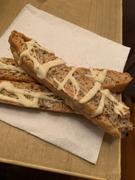 Try the cardamom extract with cocoa
This bottle is emptying fast. I make hot cocoa and add a few drops. It is the best version of cocoa I've found yet.
01/27/2023
Jana

United States
New favorite ingredient
I love cardamom, bake frequently and wanted to try this right away. I used it in my pecan pie, in substitution of some vanilla—and it lifted/brightened the whole thing. I've used dashes of it for hot toddy type cocktails too. Its entirely different than vanilla, or almond extract, so its not always a 1 to 1 replacement. I'll keep checking the reviews to see what others used it in for ideas.
01/26/2023
Karina

United States
Fantastic Cloud Forest Kardamom Extract
Adding a few drops to sparkling water (or any alcohol-free cocktail) makes it just exquisitely delicious, such a great product! Will buy it again and again.
01/19/2023
Kathy S.

United States
Lovely aromatic extract
I use it in coffee, and as a replacement for vanilla in baked goods.