Our Royal Cinnamon has been harvested in the mountains around the ancient Vietnamese capital city of Huế for millennia.
Royal Cinnamon is the species Cinnamomum loureiroi, an heirloom variety very rarely exported, and it exemplifies the intense sweetness and spiciness for which Vietnamese cinnamon is prized. Cinnamomum loureiroi was historically called Saigon cinnamon, but most of what's exported as Saigon cinnamon these days is Cinnamomum cassia. They are different species, but they are often confused for one another, and it's worth noting that neither cinnamon grows anywhere near Saigon!
Use it in place of Saigon or other cinnamons in pastries and baked goods, or sprinkle into rich, savory meat or tomato-based dishes.
If you're looking for cinnamon that's less sweet and spicy and more citrusy and complex, check out our Cinnamon Verum.
 What They're Saying:
"An out-of-this-world cinnamon and yes, you can taste the difference." -The Daily Beast
"Compared to any other ground cinnamon, this is powerful stuff." -Bon Appetit
"My favorite cinnamon is the Vietnam-sourced Royal Cinnamon from Burlap & Barrel." -Ben Mims, LA Times
"It is so robust and so complex, I cannot go back to any other." Deb Perelman, Smitten Kitchen
Origin: Quang Nam Mountains, Vietnam
Aliases: Saigon cinnamon, cassia cinnamon
Process:

Sun-dried

Ingredients: Royal cinnamon, ground (Cinnamomum loureiroi)

Tasting notes: Brown Butter • Buckwheat Honey • Orange Peel
COOKING
SOURCING
Our Royal Cinnamon comes from the mountains of Quang Nam in central Vietnam. This area was historically famous for spicy, sweet cinnamon, but in the last decade, the commodity market has shifted further north, where the prices are lower. Everyone told us that this area wasn't worth visiting and that their heirloom cinnamon variety wasn't being harvested anymore. We were very happy to discover that's not the case - the cinnamon here IS being harvested, and is incredible, probably the most intense we've ever tasted.
They use a technique for harvesting cinnamon that we've never encountered before - instead of chopping down the tree to harvest the bark, they make a deep cut around the base of the tree and let the bark dry on the tree for a couple of weeks before harvesting it. That makes it easier to harvest, but it also concentrates essential oils rather than letting them evaporate as the bark dries in the hot sun. The bark comes off the tree mostly dry and very intensely spicy and sweet, with a beautiful fragrance that we could smell from half a mile away.
Customer Reviews
Write a Review
Ask a Question
Filter Reviews:
cinnamon
flavor
spices
taste
aroma
coffee
oatmeal
baking
difference
sweetness
Delish!
Love this cinnamon. We've used it a few times in baking and the results have been amazing. Threw out all my old cinnamon jars!
10/19/2021
Sara

United States
Very special
This is really lovely cinnamon. I have always wanted to try the real thing and it does not disappoint! We made applesauce and used this cinnamon. It got rave reviews. I think this cinnamon and other spices must be what I give my family for Christmas.
10/16/2021
Nina D.

United States
My daily oatmeal gets 5 stars now!
In these cooler months I make oatmeal every morning. I just have to say, your Royal Cinnamon makes the day! So fresh, so clean, so cinnamon-y. Thank you for your good work in sourcing such beautiful and delicious spices and herbs. An ordinary bowl of oatmeal becomes a masterpiece with your help.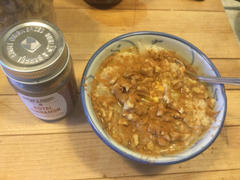 10/16/2021
Cathy S.

United States
Royal cinnamon
I gave my daughter this as a little "love gift". I haven't used it but will order some for me!
Sweet and flavorful!
Usually I am not the biggest fan of cinnamon, but the Royal Cinnamon from Burlap & Barrel is mild and sweet enough to satisfy my preferences. But while it's mild in `spiciness`, this cinnamon doesn't skip on flavor. The extra sweetness added works well in baked goods, oatmeal or pancakes. I absolutely adored in on baked apples or delicata squash.
FREQUENTLY BOUGHT TOGETHER