Sweet, red pimentón peppers are slowly dried over oak coals, which imbue them with a rich, smoky flavor that imparts a savory depth and gorgeous color to any dish.

Our Smoked Pimentón Paprika comes from a single family-owned fábrica in the Extremadura region of western Spain famous for pimentón de la vera, which has a Designation of Protected Origin status from the European Union.
Restaurateur Alissa Wagner told NY Mag it's her favorite paprika.

Origin: Extremadura, Spain
Aliases: piment

ón agridulce

Process: Smoked & dried

 over oak coals, then stone-ground

Ingredients: Pimentón de la vera DOP (Capsicum annuum)
Tasting notes: Hardwood Smoke • Ripe Tomato • Summery Sweetness
COOKING
SOURCING
Paprika. What are the two best-known countries that produce it? Spain and Hungary, right? Well, paprika, and all peppers for that matter, are actually relatively new to Europe.
Christopher Columbus brought peppers back to Spain from the New World just a few hundred years ago. In Spain, the seeds were distributed to the monasteries, which planted the peppers and taught their communities how to farm them. Centuries later, the Extremadura region in Western Spain has a protected designation of origin for their world-famous smoked paprika, so we flew to Extremadura to see the harvest for ourselves.
The paprika season starts in February, when farmers plant young paprika seedlings in long rows. By September, the plants are chock-full of firetruck-red peppers that resemble a witch's fingers. That's when they get picked and brought over to the two-story smokehouses located on each farm.
The lower level of the smokehouse is an oak-wood fire that burns for 24 hours a day. The peppers are loaded into the upper level, where they spend two weeks getting smoked over the gentle heat. Every day or two, the farmers use shovels to turn the peppers over so they dry out evenly and completely. The farmers know the peppers are completely dry by the crunch the peppers make when they're turned over.
The smell of the smokehouses wafts over fields of tobacco, the other major crop grown in Extramadura's fertile soil, filling the air with a fragrance reminiscent of a cigar bar filled with leather books... in the best way possible.


Customer Reviews
Write a Review
Ask a Question
Filter Reviews:
paprika
flavor
spices
dish
everything
Barrel
Burlap
quality
kitchen
cooking
01/16/2022
Anonymous

Canada
01/04/2021
Lucia B.

United States
09/09/2020
Maya S.

United States
Sensory Bliss!
This is my second time ordering the smoked pimenton, and the third time I've experienced this spice as it was initially a gift. Such a sweet, savory, amazing spice to bring depth and homey-ness to any dish. I preach the smoked paprika gospel to anyone who joins me in my kitchen whether that's friends, family, or students. Plus it's in support of such a great company, so, thumbs up all around.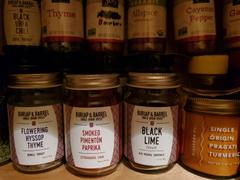 07/13/2020
Cindy D.

United States
Bottle diameter size
I am excited to get the spices but found that the bottle does not fit standard size spice rack. I have high end spice pullout cabinet with stainless rack for three tier spice storage. Also found there is no shaker insert which requires me to always have a tool to remove spice from bottle. I don't know if I will make further purchases. So sad about this.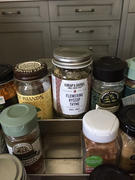 01/21/2022
Anonymous

United States
Love the smoky flavor
We use this spice mostly on cheese dishes—my husband and I love the flavor punch of this spice!
01/20/2022
Theresa R.

United States
Amazing!
I love smoked paprika and usually buy it at the grocery store when I need it. I have to say, nothing compares to the flavor and aroma of B&B's! I have been using it 50/50 when recipes call for regular paprika, and experimenting with it liberally. Highly recommend it!
01/15/2022
Patti H.

United States
Loved this!
My husband and I were watching Rachel Ray's show last month and in one of her recipes, she said she was using this particular spice from Burlap and Barrel. I went online to check out their site. My husband does most of the cooking, so I thought that some of their spices would make a different Xmas gift for him. The whole experience has been great! The spices are wonderful! He has used the smoked paprika in several dishes and we really liked the sweet, rich, smokiness flavor it added.
01/15/2022
Ray J.

United States
Great Spice
A welcome addition to our BBQ here in the South
FREQUENTLY BOUGHT TOGETHER