Our Purple Stripe Garlic powder is grown in the mountains of northern Vietnam. Its savory and sweet flavor adds depth and complexity to everything it touches. This is an heirloom variety with a purple stripe on its papery skin and bulbs about half the size of what you're used to seeing.
Add it to tomato sauces, stews, salad dressings or simply sprinkle it onto stir-fries or pizza. 

What they're saying:
"Burlap & Barrel's garlic powder adds savory depth to marinades" Food & Wine
"Has a knack for making flavors go supernova." Esquire
"I can't live without the Purple Stripe Garlic, which has a deliciously nutty brown-butter flavor." FastCompany
Origin: Cao Bằng, Vietnam
Process:

 

Hot air

-dried, then ground



Ingredients: Garlic, ground (Allium sativum)

Tasting notes: Brown Butter • Toasted Hazelnut • Asafoetida

COOKING
SOURCING
We've partnered with DACE, a social enterprise in Vietnam, to connect with the farmers growing our Purple Stripe Garlic.

The garlic is grown by communities of Hmong farmers in Vietnam's northern highlands, who are learning to grow higher-value crops and transitioning to organic and regenerative agricultural methods. We're honored to support them in that work, and to share their deeply flavorful garlic with you!
Customer Reviews
Write a Review
Ask a Question
Filter Reviews:
flavor
garlic
garlic powder
spices
Purple Stripe Garlic
taste
dishes
everything
powder
Barrel
11/03/2021
The S.

United States
Never too much garlic!
Tonight I opened my new jar of Purple Stripe Garlic, generously adding it to freshly-made mashed-then-whipped red potatoes, along with Drumstick Lemongrass, Flowering Hyssop Thyme, and a touch of Zanzibar Black Pepper. It was Delicious! This Spiciest Woman in the Neighborhood is loving all of my new Burlap&Barrel spices!
09/30/2020
Linda D.

United States
Purple Stripe Garlic, Black Urfa Chile, and Black Lime
Spurred to try these spices because of a recipe from the amazing Chef Maya-Camille of Justice of the Pies, I wasn't disappointed. The Purple Stripe Garlic has a real depth and balance of flavor, the Black Lime adds an acidic kick, and for me, the star was the Black Urfa chile — a little oily, a lengthy spiciness that doesn't have a painful edge, just an addictive flavor. As a bonus, the service was great. When my original box of three arrived, the plastic safety strip on the Purple Garlic had come off, and I felt a little nervous about using it. Burlap & Barrel promptly sent a new one, which arrived in a couple of days. I love the ethos of the company too, as it strives to use only responsibly sourced ingredients.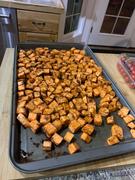 01/05/2022
Anonymous

United States
First time user
Wow! Both my husband and I are trying this in almost everything! Made his mashed parsnips extra special and tasty!
12/28/2021
Anonymous

United States
All the spices I have tried are spectacular.
Great spice assortment and all have incredible flavor.
12/23/2021
Sean L.

Canada
Best spices EVER
I received a gift if your spices a year ago and ever since then they have been my favourite. Nothing compares to the quality of spices at Burlap & Barrel. I highly recommend getting their spices!
12/14/2021
Anonymous

United States
Purple stripe garlic
Love all things garlic!!
12/14/2021
Anonymous

United States
Great garlic powder
This is a very fine-grained powder with a lot of strong fresh flavor.
12/08/2021
L

United States
"Just" garlic?
I love using garlic to cook but I don't always have the time to peel and deal with it. Yet, I've NEVER been happy with the taste of powdered garlic--it's too sharp, too "fake." Not so with Burlap and Barrel's Purple Stripe Garlic. It lends a deep, smooth, roasty garlic flavor and I keep finding things to sprinkle it on. Favorites so far are roasted veggies, polenta, and in sauces or stews. It's delicious and saves me time when I'm rushing to put a fast, foodie dinner on the table. I've bought more exotic spices from B&B, but this is my current favorite.
FREQUENTLY BOUGHT TOGETHER