Our Purple Stripe Garlic powder, grown in the mountains of northern Vietnam, is savory and sweet, and its flavor adds depth and complexity to everything it touches. The powder can be used in place of fresh garlic, or as an upgrade to standard garlic powder. Add it to tomato sauces, stews, salad dressings or simply sprinkle it onto stir-fries or pizza. The rich, buttery aroma is a welcome addition to cooked dishes, breads and even as a sprinkle topping for pizza!
This is an heirloom variety with a purple stripe on its papery skin and small bulbs.
Cooking tips
=
Add to onion, carrots and celery as a flavor base for sauces, stews, braises or beans
Toss into meat and veggie rubs, stir fries and salad dressings
Sprinkle over reheated pizza
"Burlap & Barrel's garlic powder adds savory depth to marinades"
"Has a knack for making flavors go supernova."
"I can't live without the Purple Stripe Garlic, which has a deliciously nutty brown-butter flavor."
SOURCING
We worked with our longtime partners at DACE, a social enterprise in the northern highlands of Vietnam, to connect with the farmers growing the spices for this blend. DACE works with farmers in the Hmong ethnic minority to transition to growing high-value, heirloom spices using regenerative practices. Farming in the remote highlands of northern Vietnam is not easy. The region's mountainous landscape and climate aren't suitable for producing large food crops such as rice or corn. Growing spice varieties allows farmers to use traditional organic practices on small fields, which are irrigated by collected rain water.
Buffalo Ginger was the first crop that farmers began to grow in collaboration with DACE. The regional conditions and soil quality resulted in an intense, flavorful ginger perfect for dehydrating and grinding. DACE supplies training and seedlings to farmers and sterilizes, dries and grind the freshly harvested spices and prepares them for export. They control the quality of their products and provide meaningful economic opportunities from seedling to export.
DACE, named for the small, resilient river fish of the same name, plays an important role in partnering with local farmers to facilitate these economic opportunities, drive gender equality and move toward more sustainable agricultural practices.
Customer Reviews
Write a Review
Ask a Question
Filter Reviews:
garlic
flavor
garlic powder
spices
everything
dishes
taste
Purple Stripe Garlic
Barrel
Burlap
11/03/2021
The S.

United States
Never too much garlic!
Tonight I opened my new jar of Purple Stripe Garlic, generously adding it to freshly-made mashed-then-whipped red potatoes, along with Drumstick Lemongrass, Flowering Hyssop Thyme, and a touch of Zanzibar Black Pepper. It was Delicious! This Spiciest Woman in the Neighborhood is loving all of my new Burlap&Barrel spices!
09/30/2020
Linda D.

United States
Purple Stripe Garlic, Black Urfa Chile, and Black Lime
Spurred to try these spices because of a recipe from the amazing Chef Maya-Camille of Justice of the Pies, I wasn't disappointed. The Purple Stripe Garlic has a real depth and balance of flavor, the Black Lime adds an acidic kick, and for me, the star was the Black Urfa chile — a little oily, a lengthy spiciness that doesn't have a painful edge, just an addictive flavor. As a bonus, the service was great. When my original box of three arrived, the plastic safety strip on the Purple Garlic had come off, and I felt a little nervous about using it. Burlap & Barrel promptly sent a new one, which arrived in a couple of days. I love the ethos of the company too, as it strives to use only responsibly sourced ingredients.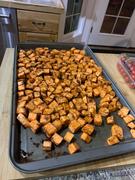 03/19/2023
Sarah W.

United States
Love this garlic!
I discovered Burlap & Burlap about 2 years ago and my entire family lives this garlic. My kids even ask for it!
03/13/2023
Jenny R.

United States
Full Flavor
Each unique spice that I receive from BnB is full of flavor, full of aroma, and just beautiful. I love working with them at home in the kitchen and at my chocolate shop--purple stripe garlic and chocolate is a very beautiful pairing!