Our cardamom seeds are bright and aromatic, reminiscent of summer fruits, fresh herbs and cut grass. The fragrant, crunchy seeds have been removed from the pods, and they're ready to dot pastries and jams and add depth to your favorite chicken recipe and give your coffee a Middle Eastern twist.

All you need to do is grind the seeds directly into your dishes as you cook for coarsley ground cardamom, with tons of flavor and a little crunch!
The grinder that the seeds come in is perfect for coarsely ground cardamom seeds with a wonderful crunchy texture. If you prefer your cardamom ground more finely, unscrew the top and grind the seeds in an electric grinder or mortar and pestle.
COOKING
Grind into rice and grains

Use in a rub for chicken and lamb

Add to fruit jams, marmalades and syrups
SOURCING
Guatemala exports 80% of the world's cardamom, but the spice is virtually unknown in local markets. It is grown exclusively for export, mostly on tiny plots by indigenous farmers in the country's remote mountainous region.
Guatemala's cloud forests are ideal for growing cardamom, which thrives in temperate high-altitude environments with plenty of rainfall. The comparatively low temperatures in the mountains during the harvest season (November-January) ensure that the cardamom has very high levels of fragrant essential oils.
Our cardamom is grown on one of the only single-estate cardamom farms in Guatemala, which is also the only farm to manage the supply chain in its entirety, from cultivation to harvesting, drying and export. Cardamom is officially graded only by its size and green color; however, those factors don't correlate to flavor. This cardamom has a yellow tinge since it's allowed to ripen fully, resulting in softer, fruitier, and overall more complex flavor.
Meet the Farmer
Our relationship with partner farmer Don Amilcar in Guatemala is one of our longest-standing and closest farmer partnerships. Maybe he was amused when Ethan first visited the farm in 2016 and hauled back a duffel back full of Don Amilcar's vine-ripened cardamom pods in 2016. We all hoped that would be the beginning of a long partnership... and it was.
In 2020, we brought in more than 20,000 pounds of spices from him, which, among other things, helped him build a new farmhouse. (Last photo, scroll to the end. )
Don Amilcar planted his first cardamom vine when he was 9 years old. In the years since then, he's created the only vertically integrated cardamom operation in Guatemala with his own farm, his own drying facility and now, his own export operation run by his daughter Meyllin.
His farming operation is so impressive and produces cardamom so good that Saveur called him "the farmer shaking up the Guatemalan cardamom trade."
Want to check out his farm? You can watch a short video we made with him here.
Customer Reviews
Write a Review
Ask a Question
Filter Reviews:
cardamom
flavor
grinder
spices
seeds
goods
little
dishes
place
LOVE
05/01/2021
Bernadette

United States
HOW COULD YOU NOT???
LOOK at this company...helping so many people, around the world, who perhaps couldn't help themselves and now are thriving. That's enough for me! But, the beyond beautiful issue, incredible spices. I have tried many and have fallen in L❤️VE with all of them. I have given the Royal Cinnamon out to friends for Valentine's Day gifts, sweeter than candy and so good for us. Packaged others in little Easter burlap bags. Tied a bright pink cord on Herati Saffron for a happy day gift for a friend. The darling nutmeg container, a birthday gift, they are adorably packaged. Gearing up for Christmas already, oh, my, thinking maybe, Turkish Oregano Buds, tucked into polka dot stockings. You can send last minute gift cards to friends who will heap praises on you too. So go ahead, please, buy them, try them, gift them, make others happy and that will make you happy too!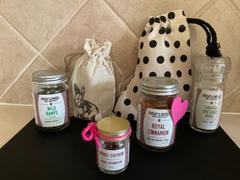 07/17/2022
Anonymous

United States
Great product poor dispenser
The cardamon is lovely,delicate andaromatic yet with a touch of spice. However the grinder is permanent and set to too course a grind leaving seed size bits in baked goods or dishes. Would be better without grinder so you can measure out and grind properly
06/23/2022
Matthew B.

United States
Love to gift this Cardamom grinder
After hearing June talk about cardamom on her Delish video, and hearing about Burlap & Barrel, I had to try out this handy cardamom grinder. It's my favorite new spice (super nice on French toast). I'm so excited to share my new find with others that I have gifted a few. One has changed a couple of her recipes permanently to include cardamom. Having the grinder out and ready to dispense freshly ground cardamom puts a smile on my face.
05/29/2022
Anonymous

United States
Perfect
Tastes incredible
05/21/2022
frederic a.

United States
love the flavors, so fresh and tasty compare to all the dry ***** over vendor sells . bring more spices in the inventory !