Choose between 6, 9, or 12 spices that are fundamental to any cook, whether you're just getting started or upgrading your spices. Use every day for happy eating. Packed in a beautiful box and ships for free within the US.
All collections include our *new* spice technique book, From Grind to Garnish: 13 Fundamental Techniques for Cooking with Spices.
The 6-spice collection includes:
Silk Chili (1.8 oz. glass jar)
These summery and spicy Silk Chili come from Kahramanmaras, Turkey. Also known as marash pepper, the Silk Chili is botanically identical to the Aleppo pepper, which has been cultivated in Syria for centuries. They have a warm, tomato-like flavor and a medium heat, similar to Espelette and Korean chilis.
Ground Laurel Bay Leaves (1.5 oz. glass jar)
Our ground Laurel Bay Leaf is a pure expression of the savory, herbal flavor of the bay leaf. Sourced from the rocky Mediterranean coastline of Turkey, then dried and ground into a powder, it's a versatile alternative to whole bay leaves.
Purple Stripe Garlic (3.0 oz. glass jar)
Our Purple Stipe Garlic Powder comes from an heirloom variety with a purple stripe on its papery skin. It's grown by a group of farmers in the mountains of northern Vietnam and has a savory and sweet flavor profile that adds depth and complexity to everything it touches.

Flowering Hyssop Thyme (0.8 oz. glass jar)
Our Flowering Hyssop Thyme is a very special herb that is only grown in the Middle East, where it is the primary ingredient in the za'atar spice blend, along with sumac and sesame seeds. It has an ancient history of culinary and medicinal usage, and it has a beautiful floral, herbaceous flavor and aroma.
Smoked Pimentón Paprika (1.8 oz. glass jar)
Sweet, locally grown red pimentón peppers are slowly dried over oak coals, which imbue them with a rich, smoky flavor that imparts a savory depth and gorgeous color to any dish. It comes from a single family-owned fabrica in the Extremadura region of western Spain famous for pimenton de la vera.

Royal Cinnamon (1.8 oz. glass jar)
The same species as Saigon cinnamon (Cinnamomum loureiroi), Royal Cinnamon is an heirloom variety not widely harvested or exported, and it exemplifies the intense sweetness and spiciness for which Vietnamese cinnamon is prized. It's our best-seller.
The 9-spice collection also includes:
New Harvest Turmeric (1.9 oz. glass jar)
Our turmeric is grown organically in southern India by Dr. Salunhke, an expert farmer specializing in sustainable agricultural techniques. It has a sweet, floral flavor without the metallic bitterness found in lower quality turmeric, and is perfect for both sweet and savory applications.
Cloud Forest Cardamom (1.7 oz. glass jar)
Our cardamom is sweet and tart, reminiscent of summer fruits, fresh herbs and cut grass. The cardamom fruit turns yellow as it ripens and has a slightly softer, sweeter flavor than standard green cardamom, but is perfect in recipes that call for green cardamom.

Buffalo Ginger (1.8 oz. glass jar)
Our Buffalo Ginger is an heirloom ginger variety from a group of farmers in the mountains of northern Vietnam. Known for its fruity and floral aroma and powerful heat, this is a complex, flavorful ginger powder that will elevate baked goods, stews, curries, and beverages from hot drinks to cocktails.

The 12-spice collection also includes:

Herati Saffron (0.5 oz. jar)
Our saffron threads are pulled carefully from the flower, which leaves a characteristic flame-colored tail on each thread. That slight gradation in color is your assurance that our saffron is 100% pure and never dyed or otherwise adulterated. Our saffron is uncommonly delicate, with a warm, honeyed fragrance reminiscent of dried roses and fresh hay.
Robusta Black Pepper (1.8 oz. grinder-top jar)
The Robusta Black Pepper is a combination of two heirloom pepper varieties, Vĩnh Linh (grown by Dūng) and Trâu Xanh (grown by Thanh). Together, the two types of sun-dried peppercorns hit a perfect balance of fragrance and flavor.

Turkish Oregano Buds (2.0 oz. grinder-top jar)
Our zesty, bright oregano buds come from Turkey, where they have to be picked by hand just before they open into oregano flowers. These tiny, pinecone-shaped buds have everything we love about oregano, but with a particularly beautiful spicy, hoppy twist. 

Customer Reviews
Write a Review
Ask a Question
Filter Reviews:
spices
gift
flavor
collection
difference
everything
Barrel
Burlap
cinnamon
quality
01/19/2022
Glenna C.

United States
A Life Changer!
It's only been a month and I've not used even a majority of the spices that arrived in the collection but WOW oh WOW am I glad I took the plunge and dove right in! I have already found some new favorite recipes and cooking is no longer a chore. It's fun to experiment and try new tastes!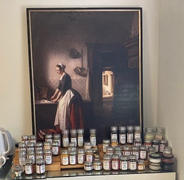 01/24/2022
Anonymous

United States
Excellent!
Fresh, full flavor Top quality Mouth-watering aroma
01/20/2022
Anonymous

United States
Excellent starter pack
Purchased this collection to give to someone moving into their own apartment.
01/10/2022
DOUGLAS J.

United States
So that's what it tastes like!
Incredible difference! Especially the cinnamon. Everything was more vibrant tasting more potent than supermarket spices.
01/08/2022
Amy J.

United States
Love these spices!
I just ordered more as a house warming gift!
01/05/2022
Anonymous

United States
Great Spices
What a fantastic gift box of excellent spices. This is a wonderful Christmas gift.
12/28/2021
Ray J.

United States
Great Spices
Wonderful spices delivered on time for Christmas. What a gift.
12/24/2021
Barbara G.

United States
Holiday Gift
Exciting and unusual for the cook who has it all.
FREQUENTLY BOUGHT TOGETHER